As it is nearly the end of January already, I hope that your wedding planning is in full swing! If not, don't panic, today I am sharing this guest post by Lauren from French Made to help you plan the most delicious part of the day – the wedding cake! French Made is a London based cake company which specialises in alternative and rustic style designs such as naked cakes. Over to you Lauren!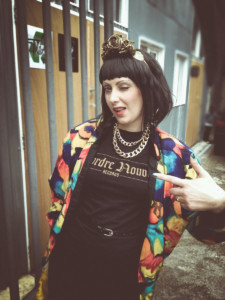 First, let's not forget that wedding cakes are real artistic creations individually designed by your cake maker. It is bespoke and made to order to meet your personal requirements. Of course, the price is primarily determined by the cost of the ingredients and size of the cake but also the level of decoration required and the time spent on the cake itself but also, the time spent on replying to your queries, answering your questions, liaising with your event coordinator at your venue to organise smooth delivery of your beautiful cake on the day etc…. All the things that are part of offering a quality service with a personal approach.
Here are a few points you may find useful to understand how your cake is priced.
The choice of covering and filling
You can usually choose between buttercream, cream cheese frosting, fresh cream, chocolate ganache, royal icing fondant icing, marzipan etc… At French Made, we have moved away from tradition and don't cover our cake in fondant icing or marzipan anymore, which tend to be more expensive, instead we only offer naked and semi naked finish (with or without colours and drips) as well as buttercream frosting with a wide selection of fillings. Basically, the price depends on the cost of the ingredients but also on the time spent on it. For example, a naked cake will require less time than a semi naked or a frosted one, simply because it will require more buttercream plus your cake designer will spend approximately 2 hours on it.
The choice of decoration
The possibilities are (almost) endless, lace, ribbon, sugar flowers or figurines, fresh flowers or fruit. Again, price and time spent will determine your final quote.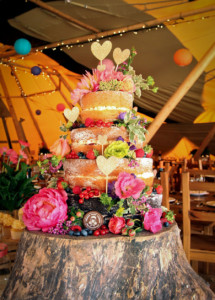 The choice of structure and height
You may go for a single, 2/3/4 tiers etc…
The height of each tier could be standard (approximately 3"), higher (4") or double (6"). Obviously, the higher the cake, the more expensive the cake will be as more ingredients are used, more time spent and more materials such as cake boards and dowels.
So ask yourself the question, do you want a tall cake to impress but not necessarily one that caters for all your guests?
Why not add fake polystyrene tiers that will add to the height. These are cheaper than a real one.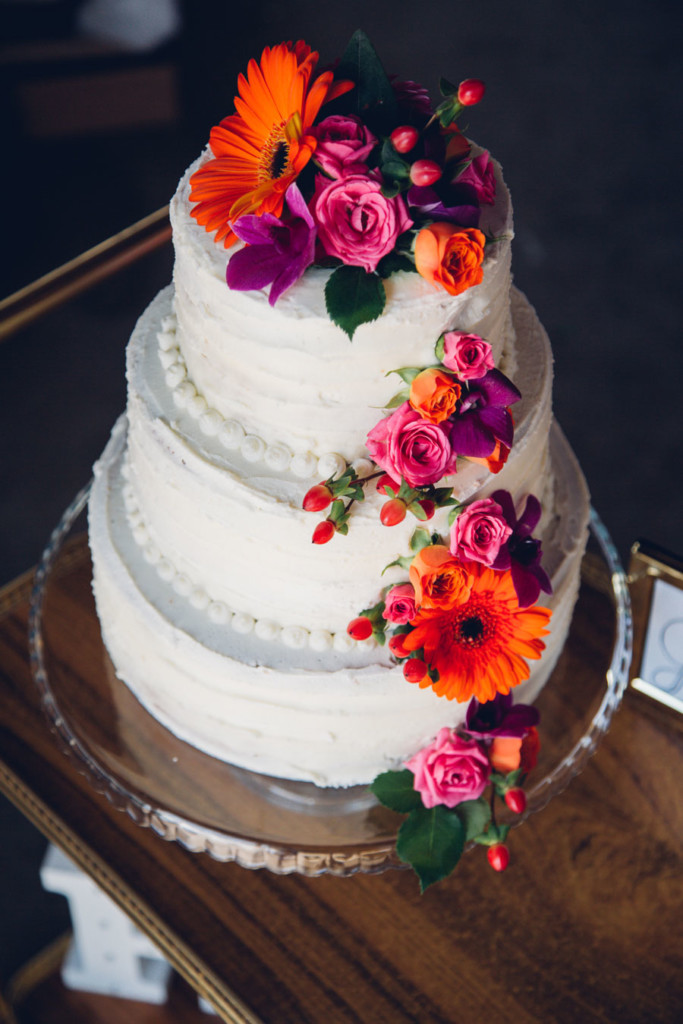 The choice of the shape
Classical shapes are square or round but there are also other possibilities such as oval, heart-shaped but be aware that uniquely shaped cakes will add extra cost especially if it requires a special baking tin.
The cake topper
Sugar flowers or fresh ones, couple figurines, wooden initials look great on naked wedding cakes. Try Etsy.com, they have a fantastic range of toppers. Personalised or not.
Thanks for that Lauren! (Photos and cakes copyright Lauren at French Made.)
You can find out more from Lauren at:
Website: French Made |Twitter |Instagram | Facebook